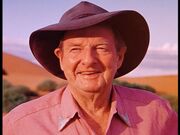 "Slim Dusty" (June 13, 1927 - September 19, 2003) was a guest star in The Wiggles It's a Wiggly Wiggly World!. He performed with them I Love To Have A Dance With Dorothy. He was married to Joy McKean who is seen in a 2005 interview video clip with Jeff Fatt as the purple Wiggle. He sadly passed away in 2003 after a protracted battle with cancer.
Other Info
He was better known as Slim Dusty, a legendary Australian country music singer-songwriter and icon, with a career spanning nearly eight decades. He was the first Australian to have a No. 1 Hit song with Gordon Parsons (which was Pub With No Beer). He was known to record songs in the legacy of Australian poets Henry Lawson and Banjo Patterson that represented the Australian Bush Lifestyle, and also for his many trucking Songs. He received an unequalled 37 Golden Guitar and two ARIA awards and was inducted into the ARIA Hall of Fame and the Country Music Roll of Renown. At the time of his death at the age of 76, Dusty had been working on his 106th album for EMI Records. In 2007 his domestic record sales in Australia surpassed seven million.
Death
He died at his home in St Ives, New South Wales on the 19th of September 2003, aged 76, after a protracted battle with cancer. The Wiggles' Top of the Tots was dedicated to the memory of him.