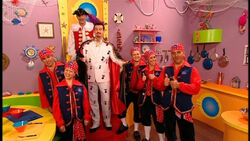 Sydney Barcarolle is the second re-recorded version of Barcarolle from the Sailing Around the World video and album. sung by opera-singer Professor Singalottasonga.
Song Lyrics
Let's go sailing on the waves
The harbor we sail all day
(The city, the beach, the surf and the sun
So many places to play)

A barbie on the beach
(Sausages you can eat)
Fruit salad and some tea
(Fun for you and for me)

Oh, what a sight. Let's all go fly a kite. Oh....
(Sydney Opera House is so grand
Looks like sails and it's white with tiles
Let's all climb the harbor bridge)
Up here, you can see for miles.

(Ooh ooh)
And listen carefully at night
In the air, tunes so light
(And the opera singer sings)

Ah ahhhhhhh ah ahhhhhhh (La la)
Ah, ahhhhhh (La la)
Ah ahhhhhhh ah ahhhhhhh (La la)
Ah ahhhhhhhh (La la)
Ah ahhhhhhh ah ahhhhhhh (La la)
Ah, ahhhhhh (La la)
Ah, ah, ah, ahhhhhhhhhhh
Song Credits
Arr. Murray Cook, Jeff Fatt, Anthony Field, Greg Page, John Field, Dominic Lindsay, Sam Moran (Wiggly Tunes)
Produced by Anthony Field
Musical Arrangements: The Wiggles, Dominic Lindsay
Manzillas: Craig Abercrombie, Brett Clarke, Ryan De Saulnier, Sam Moran, Paul Paddick, Mark Punch
Guitars: Anthony Field
Bass: Murray Cook
Keyboard: Jeff Fatt
Brass: Dominic Lindsay
Drums: Tony Henry
Percussion: Dominic Lindsay
Recorded, mixed, and mastered at Electric Avenue Studios, Sydney Australia by Robin Gist.
Trivia
Appearances
Video Performances

Album Appearances

Episode Appearances
Community content is available under
CC-BY-SA
unless otherwise noted.