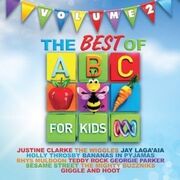 The Best of ABC for Kids Volume 2 is an ABC for Kids album released in 2014.
Songs
Apples and Bananas - The Wiggles
Dinosaur Roar - Justine Clarke
The Giggle Galaxy - Giggle and Hoot
Teddy Bear, Teddy Bear - Teddy Rock
I'm Not Singing - Rhys Muldoon
Bing Bang - LazyTown
Helmet On My Head - Sarah Humphreys and Drew McAlister
Small Potato Rock - Small Potatoes
The Monkey Dance - The Wiggles
Teddies and Bananas - Bananas In Pyjamas
Steam Train - The Mighty Buzzniks
C is for Cookie - Sesame Street
The Seasons - Holly Throsby
Super Giggle and Super Hoot - Giggle and Hoot
I Like To Sing - Justine Clarke
A Sailor Went To Sea - Jay Laga'aia
Sports - The Mighty Buzzniks
Crossing The Road - Drew McAlister and Naomi Young
Banana Detectives - Bananas In Pyjamas
Singing In The Rain - Georgie Parker
On The Hunt - Rhys Muldoon
Fish and Mice - Holly Throsby
My Ukelele - Jay Laga'aia
The 59th Street Bridge Song (Feelin' Groovy) - Georgie Parker
The Shimmie Shake! - Dorothy The Dinosaur
LazyTown - Life Can Be A Surprise
The Hokey Pokey - Sesame Street
Potato Love - Small Potatoes
Time Warp - Teddy Rock
Community content is available under
CC-BY-SA
unless otherwise noted.