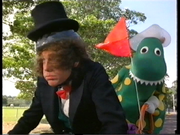 "The Chase" is an instrumental Wiggles song. It is shown in The Wiggles Movie and during the credits sequence on each episode of TV Series 1 when The Wiggles and their friends get involved in a chase with each other.
It appeared on the North American release of the Yummy Yummy album. Although it has never been released on an Australian CD, it made its debut in that country in 2019 when the North American album was made available for digital purchase and streaming as part of Classic Wiggles.
Song Credits
Written and composed by Murray Cook, Jeff Fatt, Anthony Field and Greg Page. Published by Wiggly Tunes Pty Ltd.
Trivia
The CD versions runs 3 minutes longer than any of the video versions and fades out at the end.
The song is used in the 2000 North American release of Wake Up Jeff!, and is thought to also be seen in the 1998 South African release.
It is the only song on the 2000 North American release of Wake Up Jeff where The Wiggles are seen in their 1997-2001 outfits.
The 1998 version plays in C whereas the 2017 version plays in A-sharp, B and C.
This was remade in an electric guitar style in the Wiggle Wiggle Wiggle! (TV Series).
Performances/Appearances
Video Performances
Album Appearances
TV Appearances
Other
Community content is available under
CC-BY-SA
unless otherwise noted.