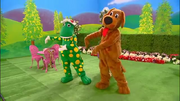 The Dreaming Song is a song from Here Comes a Song. It later appeared in Dorothy the Dinosaur (TV Series) as well as Emma! (TV Series).
Listen
Song Lyrics
Kookaburra's sleeping lilly pilly
Kangaroo is snoring lilly pilly
Platypus is curling up to rest

Kookaburra's flying in his dreaming
Kangaroo is bouncing in his dreaming
Platypus is swimming in his dreaming too
Song Credits
Written by Murray Cook, Jeff Fatt, Anthony Field, Greg Page and John Field, published by Wiggly Tunes Pty Ltd. previously published by EMI Music.
Trivia
The 1992 version of the song plays in C whereas the 2007 version plays in E.
In the 2019 clip, Emma is the only Wiggle to appear.
Performances/Appearances
Album Appearances
Episode Appearances