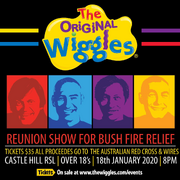 Because of the numerous catastrophic bushfires happening around Australia, the Original Wiggles decided to do a reunion show with all proceeds going toward the Australian Red Cross and Wildlife organization WIRES. The Tickets sold out in five minutes for the first show, and due to the overwhelming response, they added a second show which sold out in 10 minutes. The show was noted after Greg collapsed on stage after suffering a heart attack.
Set List (17th January 2020)
Set List (18th January 2020)
Trivia
Greg, Murray, Jeff, and Anthony were interviewed on "A Current Affair" to explain why the band was performing these gigs.
A pay-per-view live stream was done for the first show, with all money from the stream going towards the charity sponsors.
Two exclusive Wiggles shirts were sold for the event.
Murray's band The Soul Movers and Nathan Foley from Hi-5 appeared as pre-show guests.
Dorothy the Dinosaur, Wags the Dog, Henry the Octopus and Captain Feathersword are all in the show, with, of course, Dorothy making the most appearances as the most popular character.
After Get Ready To Wiggle, Greg collapsed when walking off stage while Murray, Anthony, Jeff, Emma, and Captain Feathersword did Hot Potato.
The Four Presents has its first-ever live performance.
Emma joined the dancing with Di Dicki Do Dum, Nya Nya Nya, Get Ready To Wiggle, and Hot Potato.
Anthony's daughter Lucia appeared as the Ballerina with Callum Henry-Hodsdon during Ballerina, Ballerina.
With Greg recovering Emma, Simon, John Field, Paul Paddick, and Paul Field wore yellow skivvies to fill in for him. While Jack Gatto wore the yellow Elvis outfit.
D.O.R.O.T.H.Y. (My Favourite Dinosaur), The Four Presents and Get Ready To Wiggle was not performed on the 18th of January. The aforementioned songs also remained unperformed.
Alex Keller when being introduced he played the Queen song Another One Bites The Dust.
As News Reports from the second show, Paul Paddick would perform Rock-A-Bye Your Bear, Emma would perform Romp Bomp A Stomp.
For the second show on 18th January, according to the Field Brother's Facebook page, Dressing Up was meant to be performed as part of the main set, but was later removed. Also, Dorothy (Would You Like To Dance?) and Wiggly Party were also meant to be performed as encores but were eventually removed.
Dorothy's Maria Field voice is inaudible during the show.
This was the last concert before COVID-19 hit. 
Cast and Musicians 
Gallery
Links
Community content is available under
CC-BY-SA
unless otherwise noted.