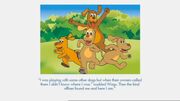 The Wagettes are Wags' young puppy friends, first seen in The Wiggles Movie. His exact relationship with them, whether they're his little brothers, cousins, nephews or anything else is never explained. Their individual names are also never officially revealed, but they go by nicknames within the fandom which are used here on this website for convenience.
They are supporting characters in The Wiggles Movie, The Wiggles Big Show, The Wiggles (TV Series 2), Toot Toot!, The Wiggly Big Show, It's a Wiggly Wiggly World! and Wiggly Safari Show. Their last appearances together were in Top of the Tots and only one of them was last seen in LIVE Hot Potatoes!. As such, it is unknown why they are not seen anymore or if they will ever appear in the future.
About
Skally
Skally is the leader of the trio. He has darker brown fur than both Cartwhelle and Fluffy. His nickname is a play on the term "Skallywag".
Cartwhelle
Cartwhelle is golden brown. He has a tendency to perform cartwheels or handstands. Either Skally or Fluffy hold his legs while he does a handstand.
Fluffy
Fluffy has light brown fur and is, as her nickname suggests, the fluffiest of the three. She appeared one more time by herself In LIVE Hot Potatoes!
Trivia
They appeared with The OG Wiggles (Greg, Jeff, Anthony and Murray) and many people hope they return with The Current Wiggles (Tsehay, Lachy, Anthony and Simon) as they never appeared with Emma
So far, two of their video appearances have recently been uploaded on The Wiggles' YouTube channel as part of the OG Wiggles playlist, which are Toot Toot! from 1998, and It's a Wiggly Wiggly World! from 2000.
In Sing With Me, They each had their dance partner be a Wiggle, Skally's partner was Anthony, Fluffy's partner was Murray and Cartwhelle's partner was Jeff.
They were with Sam one time.
Gallery