"The Wiggles' World" is a Wiggles TV series which premiered on 17 March 2020 on ABC Kids.
In Canada, it premiered on Treehouse TV on 5 October 2020.
Production
In a 2018 article, Paul Field mentioned that The Wiggles were planning on filming a new TV series in 2019.
Episodes
Home Video Releases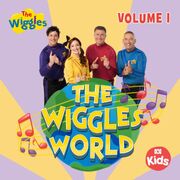 A selection of episodes are available on DVD and iTunes in Australia in a collection called The Wiggles' World.
Trivia
This TV series marked:
The Little Wiggles again make their return.
Captain Feathersword's catchphrase "Well blow me down!" fully returns in this series since the Wiggle and Learn series in 2008.
Le James Cafe is a new location as well as a segment throughout the series.
This is the last official Wiggles TV Series to be filmed before the COVID-19 pandemic.
a lot of songs are exclusive to this series, but have yet to be released on an album
The Cartoon Wiggles return in this series from The Wiggles Show!.

The segment is introduced with The Wiggles introducing themselves in cartoon form. 

Captain Feathersword's weather report returns from Lights, Camera, Action, Wiggles!.
More of The Wiggles' rooms will be seen in Wigglehouse.
Unlike The Wiggles' other TV Series, this series only has a tiny amount of cartoon sound effects.
Material from Wiggle Pop! Big Show is used in this series.
ABC iView uploaded Episode 22-26 during the premiere of the first episode. 
Some songs from albums with The Wiggles current line up are in this series, however, in order to be in this series, Lachy and Emma's vocals had to be re-recorded.
The audience cheering sounds are reused from LIVE Hot Potatoes! concert video in 2005 (AKA Lights, Camera, Action!)
A lot of songs return in this series from The Wiggles' debut album in 1991.
Emma Wiggle is not seen in the episode It's Sunny Today.
In some episodes Anthony has a very short haircut.
This is the first series to be on Kidoodle TV.
This is the second TV Series to have opening scenes before the theme song, the first being Ready, Steady, Wiggle!.
In this series it's unknown who played Little Anthony and Little Simon.
References
Community content is available under
CC-BY-SA
unless otherwise noted.