The Wiggles' World



Episodes

26

Created by

Directed by

Original Network

ABC Kids (AUS)
TVNZ 2 (NZ)
Treehouse TV (CAN)
KidoodleTV (US)

Original airdate

17 March 2020 (AUS)
25th July 2020 (NZ)
5 October 2020 (CAN)

Final airdate

11 April 2020 (AUS)
17th September 2020 (NZ)
9 November 2020 (CAN)

Preceded by

Wiggle Time! (Canada only)
Wiggle Wiggle Wiggle!

Followed by
"The Wiggles' World" is a Wiggles TV series which premiered on 17 March 2020 on ABC Kids.
In New Zealand it aired on TVNZ 2 on 25th July 2020.
In Canada, it premiered on Treehouse TV on 5 October 2020.
Production
In a 2018 article, Paul Field mentioned that The Wiggles were planning on filming a new TV series in 2019.
Episodes
Home Video Releases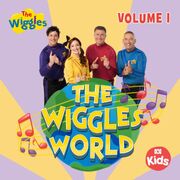 A selection of episodes are available on DVD and iTunes in Australia in a collection called Wiggles World.
Format
Songs
Three to eight songs are usually featured in the song, featuring songs live from the Wiggle Pop! Big Show tour which were filmed in Canberra and Melbourne. Unlike songs from most Wiggles series, this series doesn't contain songs from Wiggles DVDs.
The Wiggly Lounge Room
Every day we start the show in the lounge room where The Wiggles will sing, from old classics to new songs. They also get clues to solve problems, plus special visits from their friends to join in the fun and reminisce of the days of The Little Wiggles.
Le James' Cafe
Café owner James sings a song to a Wiggle who is dining in, giving a clue to what's on the menu that day. When the diner guesses correctly, Paul the waiter comes in and serves the meal in a balletic, fun way. Once the meal is over, Wiggly dancers join in, singing and dancing to a theme of the menu item du jour.
Lachy's Curly World
Lachy receives a call from the Curly Town King, Sam, asking for his assistance in running the Kingdom. This includes helping run a tea party, presenting a puppet show to the children and playing music for his friends to dance to.
Emma's Weather Bag
Emma prepares for the day ahead, getting the weather report from her friends. She can find the right clothing items for the day in her special 'Emma Poly Leather Weather Bag'.
Story Time with Simon
Simon and his friend, Shirley Shawn the Unicorn, narrate a story about their park friends through song and dance. Friends include Willy the Wobbly Worm, Billy the Butterfly and Terry the Turkey.
Music With Anthony
Anthony and his friends sing and dance to his unique instruments he teaches us about, such as the mandolin and the bagpipes.
The Cartoon Wiggles
In six episodes, there are animated music videos featuring the Wiggles in an animated form, teaching kids about road safety, hygiene and going to the doctors.
Trivia
This TV series marked:
The first series to air in New Zealand since Ready, Steady, Wiggle!.
The Little Wiggles again make their return.
Captain Feathersword's catchphrase "Well blow me down!" fully returns in this series since the Wiggle and Learn TV series in 2008.
Le James Café is a new location as well as a segment throughout the series.
A lot of songs are exclusive to this series, but have yet to be released on an album
The Cartoon Wiggles return in this series from The Wiggles Show!.

The segment is introduced with The Wiggles introducing themselves in cartoon form. 

Captain Feathersword's weather report returns from Lights, Camera, Action, Wiggles!.
More of The Wiggles' rooms will be seen in Wigglehouse.
Unlike The Wiggles' other TV Series, this series only has a tiny amount of cartoon sound effects.
Material from Wiggle Pop! Big Show is used in this series.
ABC iView uploaded Episode 22-26 during the premiere of the first episode. 
Some songs from albums with The Wiggles current line up are in this series, however, in order to be in this series, Lachy and Emma's vocals had to be re-recorded.
The audience cheering sounds are reused from LIVE Hot Potatoes! concert video in 2005 (AKA Lights, Camera, Action, Show!)
A lot of songs return in this series from The Wiggles' debut album in 1991.
Emma Wiggle is not seen in the episode It's Sunny Today.
In some episodes Anthony has a very short haircut.
This is the first series to be on KidoodleTV.
This is the second TV Series to have opening scenes before the theme song, the first being Ready, Steady, Wiggle!
References