Looky, looky here! Looky, looky there!
Looky, looky, looky, looky, looky everywhere!

This page is about a piece of lost Wiggles media.
It is open to be edited by all users, so please beware of potential false information.
If the page becomes too filled with possible lies or unexplained assumptions, please contact an administrator who will lock the page until it is truly found.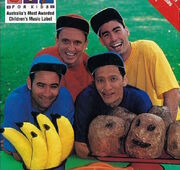 According to a Sydney Morning Herald article published on September 30, 2002, the Wiggles filmed a TV pilot in the mid-1990s for the ABC. During production, ABC thought The Wiggles couldn't communicate with children and thought they should wear T-shirts, caps and sneakers. Due to the creative differences between the ABC and the group, the pilot was rejected. After the rejection, The Wiggles decided to make their own TV Series with 13 episodes.[1]
Greg Page has described the pilot, stating that it was filmed in December 1995. It was completely silent except for two songs, Rock-A-Bye Your Bear and Hot Potato. The rest of the approximately 5-minute pilot was comprised of silent comedic skits such as The Wiggles riding a four-seated bicycle around Sydney. Greg actually owns a copy of the pilot and it's possible he will lend it to Sir Lesley Longley as part of the Unreleased NEVER-BEFORE-SEEN Specials.[2]
Gallery
References