"The Wiggles Movie" (released as a "Magical Adventure! A Wiggly Movie" in North America and the United Kingdom) was The Wiggles' feature film. Produced by Gladusaurus Productions and distributed by 20th Century Fox, it was released in Australian cinemas on December 18, 1997. It's soundtrack was released two months prior on the October 20, 1997.
Synopsis
In the movie, The Wiggles embark on a journey to find Dorothy the Dinosaur since a amateur magician Wally the Great, steals Greg's magic wand in order to become a better magician. Meanwhile, Dorothy is sad because she thinks that The Wiggles and everyone have forgotten her birthday, while in fact they're all planning a surprise party for her by performing at a circus tent that night.
Prologue
The Wiggles greet everyone and tells the audience that they're about to watch the "The Wiggles Movie.". They say that you might see the Wiggly Friends and a new character known as Wally the Great who is a magician. Anthony's hand then starts to hurt after Jeff clicks a slate. He then looks embarrassed after Greg and Murray look at him. This introduction is only available on the VHS release.
Plot
Scene 1
Wally the Great (Tony Harvey), great-grandson of Waldo the Magnificent, is the amateur magician whose dream is to win the competition at the Magic Club for Best Magician. However, he is confronted with the rival, Roland the Remarkable (Dale Burridge), who believes Wally is a nobody.
Song 1: Hey There Wally
Scene 2
The Wiggles are performing at a school. Mrs Bingle (Joanne Samuel), the principal, had the accident with Anthony after she blow the whistle to wake Jeff up before the show, causing him to act extremely silly. The Wiggles start the show.
Songs 2-4: Dorothy (Would You Like To Dance?), Can You (Point Your Fingers And Do The Twist?), Rock-a-Bye Your Bear
Wally, watches from behind a wall, sees Dorothy herself laying Greg's (who is a magician) magic wand on a table while sulking that everyone has forgotten her birthday but really they were trying to keep the surprise party for her a secret. Wally quickly snatches it but is caught by Dorothy.
Songs 5-6: The Chase (Instrumental), Quack Quack
Scene 3
The 2 have a tug of war and the wand breaks in half. Meanwhile, the Wiggles decide to go out looking for Dorothy in the Big Red Car. They visit Henry the Octopus.
Song 7: Rockin' And A Rollin' Sea
Song 8: Boom Boom
Then, they visit Wags the Dog.
Song 9: Tap Wags
Wally and Dorothy stop a rose robber and go to a dance academy
Song 10: Ballerina, Ballerina
As the Wiggles continue their search for Dorothy, They happen upon Brrrrrr Street where they get frozen.
Dorothy and Wally visit Captain Feathersword.
Song 11: Ooh It's Captain Feathersword
Scene 4
Since they have no luck find Dorothy, they go to the Wiggle house where they ace a test given to them by the talking Door, mix up their skivvies, have a flashback of the first time they celebrated Dorothy's birthday, and do the Romp Bomp a Stomp. During the adventures that Dorothy and Wally have, their friendship grows more and more. Dorothy leaves and sits on a bench, sadly, complaining to Wally that nobody remembers her birthday. Wally then says "I didn't forget your birthday" which makes Dorothy a little bit better.
Scene 5
Wally begins to daydream about his grandfather, Waldo, saying to him to believe in himself. Wally forgets all about the Magic Competition and is almost late but thanks to Dorothy, makes it. However, Jimbo the Juggler blocks their way and say that Wally should put his vehicle in the full car park but Wally thinks quick and says "You find a spot" and tosses his helmet at him leaving Jimber pinch-faced. He then signs in and runs into Roland who clearly amuses the judges when his score is 9-9-9. Wally find his Grandfather's old chest of magic supplies and is confident in himself.
Scene 6
The Wiggles are waiting for Dorothy to come to the party but nobody shows up. After Wally does his magic act, the judges score him 10-9-9. He wins the competition which leaves Roland jealous but at the same time impressed. Wally takes Dorothy to her party when it is just about to be canceled and the party begins.
Epilogue
Dorothy is proud in she has found a new friend and that her friends remembered her birthday.
Songs
Cast
Pirates
Mrs Bingle's Students
Puppeteers
Locations
Budget and Profit
According to IMDb, the estimated budget for the movie is $31 million (AUS).
In the 2011 documentary Everybody Clap! Everybody Sing!, it's discussed that there were concerns about the profit, as Australian cinemas did not charge children ages three and under. It would eventually make a profit upon its successful home video release.
Soundtrack
For more information, see here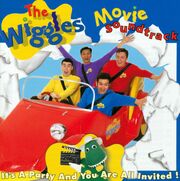 "The Wiggles Movie Soundtrack" is an Enhanced CD released on October 20, 1997. In addition to 22 tracks featured in the film, a 23rd remix track titled "Wigglemix" is included at the end of the album. It would later be used in The Dorothy the Dinosaur and Friends Video and the international version of Yummy Yummy. The "24th track" is a special interactive component, which can only be played on home computers. Among the features on "Wiggles Interactive" are a driving game with the Big Red Car, and interviews with The Wiggles and Captain Feathersword about the movie, filmed during the production of Wiggly, Wiggly Chistmas, which was released on VHS the same month. It also includes a video clip of a girl in Wiggly clothes painting and revealing the new Wiggles logo when you start playing the Big Red Car Game. (previously used as the introduction to Wiggledance!, and later used as the closing to TV Series 1), as well as a montage "trailer" set to Romp Bomp A Stomp.
Video Release
For more information, see here
The Wiggles Movie

1998 Australian VHS Cover

Released

June 20, 1998 (AUS VHS)
February 4, 2003 (US, as Magical Adventure!)
November 12, 2003 (AUS DVD)

Running Time

1:19:42

Previous Video

Yummy Yummy (1998 remake) (1998)

Next Video

Toot Toot! (video) (1998)
The Wiggles Movie was first released on VHS in Australia on June 20, 1998. It contained an exclusive introduction by The Wiggles (on the set of Toot Toot!). It would later be re-released in 2000, without the introduction (despite it still being mentioned on the cover) or any previews. It was later released on DVD on November 12, 2003 with a bonus storybook and a photo gallery.
The film was released on DVD and VHS in North America and the United Kingdom in 2003 and 2005 respectively, re-titled "Magical Adventure! A Wiggly Movie". The original UK release also contains Wiggle Time!, but the 2008 handle-case re-release omits it.
Picture Slideshow
Trivia
Goofs
The Wiggles videography
Murray

,

Jeff

,

Anthony

and

Greg

(1993-2006, 2012, 2018)
| | |
| --- | --- |
| Feature Film | The Wiggles Movie (1997) |
| Spin-Offs | The Dorothy the Dinosaur and Friends Video (1999) • Captain Feathersword the Friendly Pirate (2000) |
| TV Series Collections | Wiggly TV (2000) • Lights, Camera, Action, Wiggles! (2003) • Lights, Camera, Action! (2005) • TV Series 1 Collector's Box Set (2005) • TV Series 2 Collector's Edition (2007) • TV Series 3: Lights, Camera, Action! (2008) • The Wiggles Show: The Pick of TV Series 4 (2010) • Ready, Steady, Wiggle! The Pick of TV Series 5 (2010) |
| Other | Dorothy the Dinosaur Goes to Hospital (Promo video, 1999) • Happy 15th Birthday! (Documentary, 2006) |
Murray

,

Jeff

,

Anthony

and

Sam

(2007-2011)
Anthony

,

Lachy

,

Simon

and

Emma

(2013-present)
Dorothy the Dinosaur

(2007-2012)
Community content is available under
CC-BY-SA
unless otherwise noted.