Yellow circle on a purple background. This one's different, it's a red triangle.
This one's different, it's a black rectangle. This one is just plain blue.

Not what you were looking for?
This article is about the Latin American TV series. For the Australian series, see here.
The Wiggles Show! is a Spanish-language Wiggles series produced for Latin American audiences. It is primarily an adaptation of the Australian TV series of the same name.
It aired on Disney Channel's Playhouse Disney block in 2006 in Mexico, Peru, Venezuela and Uruguay and has since been given a worldwide release on YouTube beginning in 2021.
Episodes
Cast
The Wiggles
The Wiggly Friends
All costume actors are currently unknown.
Wiggly Dancers & Friendly Pirate Crew
This list is incomplete.
Marcela Balart
Honey Depozo
Mauricio Alpizar
Jose ??????
Other Dancers
Other Pirate Crew
Trivia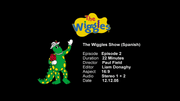 Episodes did not originally have proper titles. A master copy of Episode 2 was linked in an article discussing the series and Los Wiggles brand on YouTube; when downloaded, a card containing some technical information is viewable in certain video players, which reveals the title at the time of production was "Episode 2" (the name of the file itself also simply calls it "Ep02"). It's believed that the episode titles given on YouTube were created at the time of the YouTube release.
This was the first series where the Maton Guitar straps have music notes on them
The concert songs were filmed at Sydney Entertainment Centre.
As revealed by the same card above, episodes were produced in 2005, with Episode 2 being completed on 12 December 2005.
While production for The Wiggles TV Series 5 mostly occurred before this series, some footage filmed for the Latin American Wiggles was used in that show, like shots of the Wiggly Friends in Having Fun At The Beach. Additionally, the music video for Big Red Boat and other segments from the video Splish Splash Big Red Boat, were filmed during and/or after the production of this series, as it uses a set created for this series (resembling the Sailing Around the World Live! stage) and the Big Red Boat vehicle itself has the English words removed off the side as it does in this series.
Like the Mandarin Wiggles, some song intros are nearly identical to the ones in the 1998 versions of Yummy Yummy, Wiggle Time and even the Big Red Car remake at the time Here Comes the Big Red Car, while some are exclusive to the series.
The Australian Wiggles were involved helping with this series production, mostly as executive producers, although in Episodio 1, Anthony made a brief cameo with his wife Miki and daughter Lucia.
Various Wiggly Dancers who appeared in the Latin American TV Series appeared in the English version of Big Red Boat, including Jennifer Taipari, Mario Martinez-Diaz, Marcela Balart and Yarima Herrera appearing alongside Paul Paddick.
Reference