TV Series 4 & 5



Episodes

52 x 11' or 26 x 22' (per series)
104 x 11' or 52 x 22' (total)

Filmed

2003-2006

Created by

Original Network

11-minute:
ABC1 (AUS)
Sprout (US)
NBC Kids (US)
TV3 (New Zealand)[1]

Kidzone (NZ)[2]
22-minute:
Playhouse Disney (AUS/US)
Treehouse TV (CA)
Nick Jr. / Nick Jr. 2 (UK)[3]

Opening Theme

Closing Theme

Brisbane
London Town (Dorothy's Ballet only)

Original airdate

11-minute:
18 April 2005 (AUS, TS4)
19 June 2006 (AUS, TS5)
2011 (US)
22-minute:
23 August 2005 (US, TS4)
19 February 2007 (US, TS5)
1 March 2008 (CA, TS5)[4]
June 2008 (AUS, TS5)
1 December 2008 (UK, TS5)
6 April 2009 (AUS, TS4)

Preceded by

Lights, Camera, Action, Wiggles! (TV Series 3)

Followed by

Wiggle and Learn
(TV Series 6)
The Wiggles Show! is the name of TV Series 4 and 5 of The Wiggles.
Series 4 was filmed and produced mainly in 2004 and premiered on ABC TV on 18 April 2005 at 8:00 am[5]. Series 5 premiered a little over a year later, on 19 June 2006 at 8:10 am[6] and the series concluded at the end of that August[7].
Episodes
Each of these 22-minute episodes listed were originally split into two 11-minute episodes when first aired on ABC. Since none of these 11-minute versions have been released on DVD or iTunes, the episode pages listed are of the more commonly seen 22-minute versions.
For airdates and known information on the 11-minute episodes, see the aptly named tab below.
Premiere dates are from Playhouse Disney airings in America.
TV Series 4 (2005)
TV Series 5 (2006)
NOTE: Episodes marked with an asterisk (*) means official names have never been given to them by The Wiggles on DVD, iTunes, or otherwise. Our articles on these episodes use the names given to them by Playhouse Disney in America (sourced from tv.com) and the order is based on iTunes and Netflix in Australia.
Premiere dates are from ABC1 airings in Australia. Episode titles (where available) come from Sprout airings. Please do not add any additional episode titles unless you can provide a verifiable source.
Note: Episodes that have surfaced online are marked with an asterisk (*); partially available episodes are marked with a double asterisk (**). All others are currently considered lost media.
TV Series 4 (2005)
TV Series 5 (2006)
Click "Expand" for synopses on episodes from archived ABC1 TV schedules.
Format
Songs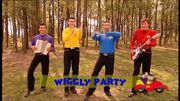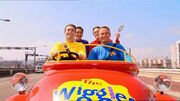 Multiple songs are featured in each episode, including studio songs from recent videos, songs performed in concert and ones made exclusively for the series, filmed at an outdoor location, such as a forest or a beach.
In Series 4, songs from Top of the Tots, LIVE Hot Potatoes! and the not yet released Sailing Around the World video appear. Song title cards are used, with a cartoon Big Red Car or Feathersword revealing the title. Series 5 features song clips from Here Comes The Big Red Car and It's Time to Wake Up Jeff!. It also featured songs filmed during the Santa's Rockin'! Tour.
Several songs in both series are presented in "Wiggly Animation" done by Plastic Wax Animation. In Series 5, animated songs dubbed in Spanish are performed by "The Mariachi Wiggles", while songs dubbed in Mandarin Chinese show The Mandarin Wiggles. Series 5 treats both English and Foreign animation songs more as a segment, with one or two Wiggles almost always introducing both.
Sailing Around the World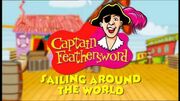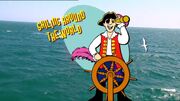 Focusing on Captain Feathersword and his crew, we see them travel the world and have misadventures on the S.S. Feathersword or at the beach. The Wiggles appear in music videos featured at the end of these segments, although they are seen much less in Series 5's segments. The intro for the segment is the same one used in its eponymous video, with the only difference being its title card.
Wigglehouse
Looking much like the Wigglehouse from TV Series 2 (although the layout is different, much of the same furniture is reused or recreated), the segment opens with the chorus of In The Wiggles' World. In the segment, The Wiggles are often seen performing a task, such as Jeff painting a picture of Wigglehouse (which the others mistake for him painting the walls of the house), or Greg cooking Vegetable Soup, prompting the others to wash their hands before they eat. In Series 5, some segments focus on Magic Greg performing magic tricks (such as making milk in a newspaper disappear) and Anthony causing difficulties in his tricks, calling back to similar sketches seen in Series 2. Some Series 5 segments also end in a brief song, either performed live (such as Vegetable Soup) or miming to a short studio recording (such as Gulp Gulp or Here Come The Chicken). The outside of Wigglehouse is never seen in live-action.
Dorothy's Dance Class (S4)/Dorothy's Dancing Alphabet (S5)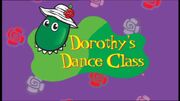 This segment focuses on Dorothy the Dinosaur and the Wiggly Dancers teaching a specific dance. In Series 5, each dance relates to a letter of the alphabet, which Anthony introduces at Captain's dock. Both segments open up with the chorus of Dorothy (Would You Like To Dance?).
The Little Wiggles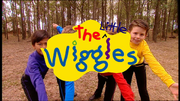 Showing the life of The Wiggles when they were young, very similar to the Wigglehouse segments although typically much shorter in length. In Series 4, each segment is accompanied by a song performed by The Little Wiggles, while Series 5 drops this.
Jeff's Animal Adventures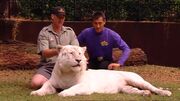 This segment, which appears only in Series 5, sees Jeff showcase some animals around a zoo. These are usually less than 30 seconds and are set to the instrumental of Anthony's Workshop. The segment is never given a name on-screen, although the description to The Pick of TV Series 5 DVD calls it "Jeff's Animal Adventures". These segments were filmed at Tarronga Zoo in Sydney.
Version Differences
The original 11-minute versions that aired on ABC are very similar to 22-minute versions. Unlike TV Series 3 and 6, where songs and segments are shuffled around to change the running time, every episode in the 22-minute versions has a song or segment ends at the exact 11-minute mark. Thus, the 11-minute versions are simply those episodes split in half, with a brief scene of The Wiggles saying goodbye added to the end of the first half (as well as credits laid over the last 30 seconds or so) and the theme song placed before the second half. Some other brief edits are made to make each episode exactly 11 minutes, such as some songs or Dorothy's Dance Class segments being shortened in Series 4 to make room for the theme song or end scene. In Series 5, some short scenes of The Wiggles and their friends dancing or waving between segments in the 22-minute versions are removed in the 11-minute versions for the same reasons.
Tie-in Videos
Videos that were produced alongside the series include Sailing Around the World was released in 2005 around the time of TV Series 4, while Here Comes The Big Red Car and It's Time to Wake Up Jeff! were released around the same time as TV Series 5 in 2006. These three videos and the two series share many of the same segments and songs. Because Sailing Around the World is almost entirely new songs with a continued theme and focus on Captain Feathersword and the latter two videos are remakes of previous videos Big Red Car and Wake Up Jeff! respectively, it can be assumed these shared scenes were most likely made for the videos first.
However, Splish Splash Big Red Boat, released the same day as It's Time to Wake Up Jeff!, is a more straightforward clip show of TV Series 5. It is made up of a variety of songs and segments from that series (plus one from Series 4), almost all of which had appeared in previous videos, with no real theme tying them together.
Racing to the Rainbow, released on DVD after TV Series 5 had ended, used the same Wigglehouse and S.S. Feathersword sets, though with a noticeably different look to the shots, as it was The Wiggles' first studio video to be filmed in High Definition. Bloopers from Series 5 and its related videos were included as a bonus feature on Racing to the Rainbow's DVD, further tying it in with the series.
Home Video Releases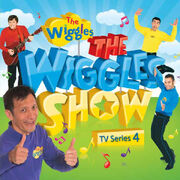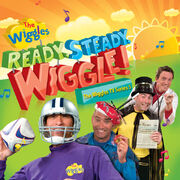 Unlike the three series prior, neither series was ever given a complete DVD box set. However, in June 2010, two compilations were released containing the first 9 episodes of each series (22-minute versions), The Wiggles Show: The Pick of TV Series 4 and Ready, Steady, Wiggle! The Pick of TV Series 5. They were only released in Australia and New Zealand and, as of 2021, are currently out of print.
In these same regions, both complete series was available on iTunes using artwork similar to the DVD releases. Both series were presented in 360p, a resolution height over 200 pixels smaller than the original 576i resolution. Series 4 was also in mono sound despite being created in stereo. Neither is currently available for purchase. Series 5 was also available for streaming on Netflix in Australia, though it was removed in 2018. But they are still available on Google Play & YouTube for Australia & New Zealand fans.
Trivia
Series 4 took a hiatus in airing on ABC1 between May 27 and August 8, although Episode 31 premiered after an airing of Whoo Hoo! Wiggly Gremlins! on June 13.[60]
Despite it having been released between Top of the Tots and Sailing Around the World, none of the songs from the Cold Spaghetti Western appear in Series 4 (not counting We're The Cowboys and which appears in animation).
This is the second and last series in their 2002 era skivvys.
Episode 3 of Series 5 aired out of order, as other programming took the show's spot on Wednesday, June 21, 2006 schedule.[61] It aired the next Monday instead.
This is the first series to have Christmas songs, despite not being December yet.
In Series 4, Officer Beaples made a return in Wiggly Animation, while in Series 5, she finally made her live-action return.
Most background music in this series are instrumental renditions of various songs, while some background music is reused from The Wiggles Movie, TV Series 1 and TV Series 2.
Series 4 was the first series not to feature the song "Get Ready To Wiggle", while Series 5 was the last one to feature "Wake Up Jeff!".
Songs in Series 5 later appeared in Splish Splash Big Red Boat and Lights, Camera, Action! 好戲上場.
Series 5 was the final series to be shot at the Sydney Film and Television Studios.
Every time the songs during the Series 5 episodes start and end, the footage is slightly extended or cut off.
This is the first TV Series to air on Treehouse TV in Canada.
In Series 5, The Wiggles reused songs from some of their previous albums such as Here Comes a Song from 1992, a year after The Wiggles began.
This was Greg's last aired TV series as a Wiggle, though a sixth series was partially shot with him before being replaced by Sam.
This is Murray Wiggle and Jeff Wiggle's penultimate aired TV series.
The songs in Series 4 and 5 came from various videos from Top of the Tots to It's Time to Wake Up Jeff!
This is the first series to use Circus Mouse Bold font, though some parts still used the fonts Wiglet and P22 Daddy O Hip.
References