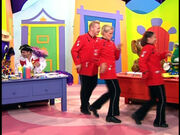 The Wiggly Dancers are a musical troupe who have toured with The Wiggles and appeared in their videos, DVDs and TV programs. They play most of their minor roles. They often wear red coats with music notes. The black pants were initially colour-striped with one solid Wiggle colour which would later be for The Wiggles from 2007 to 2012, but they were soon replaced by multi Wiggle-coloured stripes. The costumes changed in 2007 to have the jackets be shorter and the pants stripes solid red again, for an unknown reason (the classic red coats were reused for a few occasions like some original line-up reunion shows). Now they also wear clown costumes seen in Celebration! Their first appearance was in Toot Toot, but their red coats didn't appear until Wiggly Party: Live in Concert, then making their video debut on Wiggly Safari.
Since 2013, they have appeared less often as their numbers have decreased. They still wear red and black, but they now also dress up in costume of some sort or wear a green sparkling jacket and black pants. As of 2022, the main line-up of Wiggly Dancers include Dominic Field, Stephanie Di Coio, Paloma Hendry-Hodsdon, Lucia Field, Callum Hendry-Hodsdon, Samuel McKeown and Caterina Mete. Oliver Brian, Nollaig Heraty, David O' Reilly and Michael McFadden have appeared at concerts dressed as Wiggly Dancers, but fill musician duties instead.
Guest Wiggly Dancers have appeared off and on again throughout the videos, most notably Andrew Koblar, Michael McFadden, Lucky Lartey and his friend Pepsie and Tim Cheeseman. 
Wiggly Dancers
Trivia
In Top of the Tots, Greg called them "the red coat dancers."
The females first wore pants in the earlier videos, but when the costumes changed in 2007, they started to wear skirts.
The Wiggles wore their red coats in Hats. 
They were just credited as Dancers until 2002.
They sometimes have speaking roles in their videos or TV Series.
In some concerts in 2004-2006, Sam Moran was the only dancer to wear a headset mic for extra backing vocals, also if Greg has to leave the stage to take a break he has to sing for him and when he is performing Professor Singalottasonga.
Characters
The Wiggly Group
The Wiggles
Anthony Wiggle (since 1991) • Lachy Wiggle (since 2013) • Tsehay Wiggle (since 2021) • Simon Wiggle (since 2013)
The Fruit Salad TV Wiggles
Evie Wiggle (since 2021) • Lucia Wiggle (since 2022) • Caterina Wiggle (since 2022) • John Wiggle (since 2021)
The Wiggly Friends
Dorothy the Dinosaur (since 1991) • Henry the Octopus (since 1992) • Captain Feathersword (since 1993) • Wags the Dog (since 1995) • Shirley Shawn the Unicorn (since 2019)
Secondary
Officer Beaples (1997-2000, 2006, 2013-present) • Bok the Hand Puppet (since 2021) • Paloma the Mermaid (since 2021)
Former Wiggles
Murray Wiggle (1991-2012) • Jeff Wiggle (1991-2012) • Greg Wiggle (1991-2006; 2012) • Phillip Wiggle (1991) • Sam Wiggle (2006-2011) • Emma Wiggle (2013-2021) • Kelly Wiggle (FSTV; 2021-2022)
Minor Characters
Flora Door (1999-2000, 2021) • Hot-Pots The Oven (1999-2006) • Foodman (1998, 2004, 2009) • The Little Wiggles (2005-2006, 2015, 2017) • Magdalena the Mermaid (2002, 2006) • Professor Singalottasonga (1999, 2005-2006) • Ringo the Ringmaster (2009-2012) • Santa Claus (since 1997) • The Wagettes (1997-1999, 2003) • Wally the Great (1997) • The Wiggly Dancers (since 2000)
Selected Guest Stars
Christine Anu (2000, 2016) • Morgan Crowley (2001, 2017) • Lee Hawkins (2014) • Paul the Cook (Paul Hester) (1998) • The Irwins - Steve, Terri, Bindi and Robert (2002, 2017) • Kylie Minogue (2009, 2017) • Robert Rakete (2014-2015, 2021) • Alfonso Rinaldi (2002-2006, 2012) • Al Roker (2011) • Leo Sayer (2008) • Daryl Somers (2011) • Ross Wilson (2003)