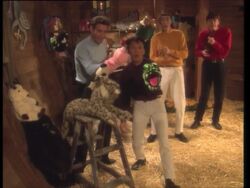 "Uncle Noah's Ark" is a song first sung on Here Comes a Song. It was later featured on Wiggle Time!. This song talks about Noah and his ark with his animals and the noises they all made on the boat.
Listen
Song Lyrics
Verse 1
A long long time ago
As all you folks should know
Uncle Noah built himself an Ark
(Now that's a boat folks)
For forty days and nights
The rain was quite a fright
The animals nearly tore the Ark apart

Chorus
The ducks went quack
The cows went moo
The rooster cock-a-doodle-doo
The old tom cat sure raised an awful row
The little pig squealed
The billy goat baaaed
The bullfrog said "Biggest rain we ever had"
Uncle Noah's Ark is a mad house now

Verse 2
The horses and cattle and fowl of the air
Even the long eared donkey was there

The ducks went quack
The cows went moo
The rooster cock-a-doodle-doo
All were there at Uncle Noah's Ark

Chorus
Verse 2
Song Credits
Traditional/Arrangement by Murray Cook, Jeff Fatt, Anthony Field and Greg Page, initially published by EMI Music.
Since the Let's Wiggle album in 1999, publishing rights have been controlled by Wiggly Tunes Pty Ltd, although EMI was still sometimes credited afterward.
Trivia
The Wiggles performed this song on the Midday Show on 29 September 1993.
The English version plays in G whereas the Taiwanese version plays in A.
Goofs
Towards the end of the song, Dorothy's head lifts up for a moment, revealing the face underneath.
Appearances/Performances
Video Performances
Album Appearances
Episode Appearances
Community content is available under
CC-BY-SA
unless otherwise noted.