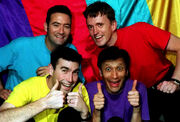 The Wake Up Jeff! Tour was a series of Concerts performed throughout 1996. This was the first ever Concert Tour to be made into a full Video, with the December 1996 Concerts at the Seymour Centre, referred to as "The Wiggles' Wake Up Jeff! Holiday Show" released on Video as Wiggledance! in 1997.
Setlist
Note: this setlist is a mix of known songs from the tour and the Wake Up Jeff! Holiday Show which took place from late 1996 to early 1997 and was filmed as part of Wiggledance! It's currently unknown how similar this was to the smaller concerts which occurred throughout 1996.
Rumored Songs
Cast
The Wiggles
Also featuring
Paul Paddick as Captain Feathersword and Dog Catcher
Carolyn Ferrie as Dorothy the Dinosaur
Leeanne Ashley as Dorothy the Dinosaur
Leanne Halloran as Henry the Octopus and Officer Beaples
Donna Halloran as Wags the Dog and Zoo Keeper
Currently it is unknown how often these performers appeared, let alone as their characters. For that matter it's currently unknown if the Wiggles ever appeared in the costumes (especially Captain Feathersword, Henry, and Wags) during these concerts.
Tour dates
(Known dates only)
26 January 1996 - Hyde Park, Sydney NSW
26 January 1996 - Parramatta Park, Parramatta NSW (Australia Day Concert with John Williamson)
8 February 1996 - Melbourne Cricket Ground, Melbourne VIC (as part of the MCG Launch)
1 April 1996 - Pittwater High School, Mona Vale NSW
2 April 1996 - Revesby Workers Club, Revesby NSW
3-4 April 1996 - Willoughby Town Hall, Chatswood NSW
6 April 1996 - Crestwood High School, Baulkam Hills NSW
16 April 1996 - Unknown venue, Moorabin VIC
17 April 1996 - Unknown venue, Ivanhoe VIC
18 April 1996 - Unknown venue, Ringwood VIC
19 April 1996 - Royal Melbourne Showgrounds, Flemington VIC
21 April 1996 - Australia's Wonderland, Sydney NSW (as part of Kidz Fest '96, along with Mike Jackson, Barney, The Hooley Dooleys and Gillian Eastoe [14 April])
21 April 1996 - Randwick Labor Club, Randwick NSW (Note: Here's How We Do was a cabaret-style show based on the music of Gilbert & Sullivan, devised by Anthony Field and starring himself, Greg Page, Paul Paddick, Vanessa Fallon and the Marcellin Singers. A similar show was performed some time in February)
31 May 1996 - Penrith Park, Penrith NSW (The Wiggles performed a few sing-along numbers at the opening to a rugby game between Penrith and South Queensland)
1 July 1996 - Shellharbour Workers Club, Shellharbour NSW
2 July 1996 - Hurstville Entertainment Centre, Hurstville NSW
3 July 1996 - Unknown venue, Endensor Park NSW
4 July 1996 - Rooty Hill RSL, Rooty Hill NSW
5 July 1996 - Asquith Girls High School, Asquith NSW
8 July 1996 - Randwick Girls High School, Randwick NSW
9 July 1996 - Newcastle Workers Club, Newcastle NSW (Note: One source mistakenly lists The Wiggles as appearing at Randwick Girls on 9 July)
18 August 1996 - The Domain, Sydney NSW (with Colin Buchanan as part of the Dairy Farmer's 95th Anniversary Country Fair)
23 September 1996 - Hawthorn Town Hall, Hawthorn VIC
24 September 1996 - Unknown venue, Springvale VIC
25 September 1996 - Williamstown Town Hall, Williamstown VIC
26 September 1996 (?) - Lilydale International Club, Lilydale VIC
27 September 1996 (?) - Unknown venue, Broadmeadows VIC
30 September 1996 - Unknown venue, Milsons Point NSW
1 October 1996 - St Marys Senior High School, St Marys NSW
2 October 1996 - Castle Hill RSL, Castle Hill NSW
3 October 1996 - Sharks Leagues Club, Cronulla NSW
5 October 1996 - Unknown venue, Gosford NSW
20 October 1996 - Sydney Cricket Ground, Sydney NSW (as part of the ABC at the SCG festival, along with the Bananas in Pyjamas, Play School, Sydney Youth Orchestra, ABC Country Concert, Sonora Galaxia and The Grace Knight Band)
21 November 1996 - Chifley Plaza Shopping Mall, Sydney NSW (Note: The Wiggles were present with actress Gia Carides signing hearts for the Sydney City Mission's Christmas Hearts Appeal, it is unknown if they also played a concert)
21 November 1996 - Sydney Exhibition Centre Darling Harbour, Sydney NSW (as part of the 2WS FM Variety Club Christmas Party for Special Children, along with Monica Trapaga and others)
16-19, 23 December 1996 - Seymour Centre, Chippendale NSW (referred to as the Wake Up Jeff! Holiday Show) - Filmed for Wiggledance!
26 January 1997 - Hyde Park, Sydney, New South Wales (for Australia Day)
30 January 1997 - Joan Sutherland Performing Arts Centre, Penrith NSW
2 February 1997 - Royal Showgrounds, Ascot Vale, Victoria (Kidz Day Out, appearing alongside George Spartels, Monica Trapaga, The Hooley Dooleys, Johnson and Friends, Franciscus Henri and Andy Jones)
16 February 1997 - Randwick Racecourse, Randwick, New South Wales (Kidz Day Out Sydney)
2 March 1997 - Penrith, New South Wales (Super League Penrith Panthers Vs Perth Reds Game) (possible final appearance of the plain shirts and belts)
Trivia
Murray

,

Jeff

,

Anthony

and

Greg

(1993-2006, 2012, 2016, 2020, 2022)
Murray

,

Jeff

,

Anthony

and

Sam

(2006-2011)
Anthony

,

Lachy

,

Simon

and

Emma

(2013-2021)
Anthony

,

Lachy

,

Simon

,

Tsehay

,

Evie

,

John

,

Caterina

and

Kelly

(2022-Present)