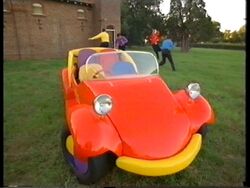 "We Like To Say Hello (Instrumental)" is an instrumental score track from The Wiggles Movie, based on the vocal song We Like To Say Hello.
It later appeared in multiple episodes of The Wiggles (TV Series 2), and in the videos Wiggly Safari and Celebration!.
Listen
Personnel
Written and composed by Murray Cook, Jeff Fatt, Anthony Field and Greg Page. Published by EMI Music.
Community content is available under
CC-BY-SA
unless otherwise noted.