Wiggle Wiggle Wiggle!



Episodes

26

Filmed

2015-2017

Created by

Directed by

Original Network

Opening Theme

Original airdate

26 January 2018
(Hello Everyone)

Final airdate

20 February 2018
(Do The Twist!)

Preceded by

Followed by
Wiggle Wiggle Wiggle!, a current gen Wiggles TV Series, premiered in Canada on September 23rd, 2017 on Treehouse TV. It later began airing in the USA on October 9th, 2017 on Universal Kids, and finally in Australia on January 26th, 2018 on ABC Kids.
It is the first series since Wiggle and Learn to be 22-minutes in length, and the first series with the current generation to be this length.
Episodes
Credits
Starring: Anthony Field, Lachlan Gillespie, Simon Pryce, Emma Watkins
Written & Directed by: Anthony Field
Carnival of the Animals Music by: Camille Saint-Saëns
Words by: Simon Pryce
Executive Producer: Paul Field
Director of Photography: Aaron Hill
Choreographer & Wardrobe: Caterina Mete
Production Manager: Kate Chiodo
Production Scheduling: Kate Chiodo, Caterina Mete
Music Produced by: Anthony Field, Lachlan Gillespie
Post Production: Tim Cheeseman, Aaron Hill, Gerald Holmes, Alex Keller, Leonardo Silvestrini, Yi Yin
Home Video Releases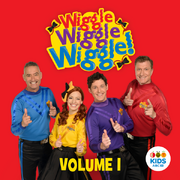 Currently no episodes have been released on DVD.
In the United States and Canada, 5 volumes have been released on iTunes and Amazon Video. At 5 episodes each, the final episode, Do The Twist!, is missing.
In the US, all 26 episodes are available streaming on Hulu.
Trivia
This series premiered on Treehouse TV in Canada, with little announcement before premiering.
Songs from several existing albums are used, but with new music videos. There are also new recordings of classic Wiggles songs (such as Henry's Dance), and concert footage recorded at various locations (including outside the Sydney Opera House on Australia Day).
Some footage used in this TV Series dates as far back as 2015 (such as concert clips from the Big Show! & CinderEmma Tour), though it was primarily filmed in early-2016 to early-2017.
Carnival of the Animals exists as a recurring segment. However, an earlier segment Dorothy the Dinosaur's Wonderful World, which was named after TV Series 3, originally intended to be used but it wasn't.
The Little Wiggles returns as a segment, with Maria and Antonio Field returning as Little Emma and Little Anthony from The Wiggles Meet The Orchestra!.
Wigglehouse's interior is very different from Ready, Steady, Wiggle!, though the exterior remains the same, the Wigglehouse at Dreamworld.
This TV Series marks the debut of the Bowmobile.
This is the first TV Series featuring Maria Field voicing Dorothy. Carolyn Ferrie's voice clips as Dorothy were dubbed over by Maria in live show clips, although her voice remained in Who's in the Wiggle House?
During the Behind the Scenes for the Wiggle House kitchen scenes, Lachy sang Tiptoe Through The Tulips, which was later released on Wiggle Pop!.
Gallery
Intro
Outro
Promo Photos