For other uses of "Wiggle and Learn", see here
TV Series 6



Episodes

52 x 11'[1] or 26 x 22'

Filmed

2007

Created by

Original Network

22-minute:
Treehouse TV (CA)
Playhouse Disney (AUS/US)
Nick Jr. 2 (UK)[2]
11-minute:
ABC1 (AUS)
Sprout (US)

Opening Theme

Closing Theme

Original airdate

22-minute:
21 April 2008 (CA)[3]
8 December 2008 (US)
5 January 2009 (UK)[4]
11-minute:
12 May 2008 (AUS)[5]
2011 (US)

Preceded by

The Wiggles Show!
(The Wiggles TV Series 4 & 5)

Followed by
Wiggle and Learn is the name of the sixth The Wiggles TV series.
It was primarily filmed in 2007 and premiered in Canada on Treehouse TV in April 2008 and in Australia on ABC1 in May 2008. The series was dubbed in many languages, for example in Spanish-speaking parts of Latin America, the series is called "Wiggle y Aprende", and in Portuguese-speaking Brazil, the series is called "Wiggle e Aprenda".
To find out about another original version that was filmed in 2006 with Greg Page as the yellow Wiggle, see here.
Episodes
Like the previous 3 series the show exists in 2 versions. 11-minute versions aired on ABC in Australia and later on Sprout in the US, and 22-minute versions aired on Playhouse Disney in Australia and the USA and Treehouse TV in Canada. See each tab for complete lists of episodes.
The contents of all 26 episodes of the 22-minute versions are known, as they were available in the 6-volume DVD collection released exclusively in Hong Kong, and in 2 volumes on iTunes in Australia. The 22-minute versions were also the versions dubbed in other countries. Note: Episode airdates are from Playhouse Disney airings in America.
18 of the 52 11-minute episodes were released on The Pick of TV Series 6 DVD, with two additional episodes also released on bonus DVDs included in 20th Birthday re-releases of Wiggles videos (listed in "Home Video Releases" section below). The names of the remaining 32 episodes, as well as the order of episodes, is sourced from archived Sprout schedules[6][7]. Sprout airings of two episodes (Old Dan Tucker and Nick-Nack Paddy-Wack) have surfaced online, but all other episodes remain lost.
Format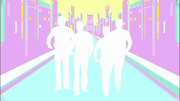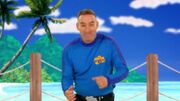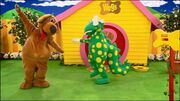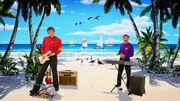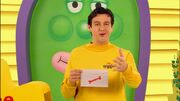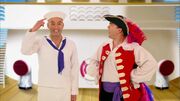 Like TV Series 2, there is no specific structure to each episode. There are recurring segments, although they are not given names or title cards, and do not have a specific place in each episode.
Intro/Credits
Each episode begins with the song Wiggle and Learn almost exactly as it appeared on the Getting Strong! DVD a year prior. A shortened version of Goodbye From The Wiggles plays over the end credits of every episode.
Songs
Songs from the videos Getting Strong!, Pop Go The Wiggles, You Make Me Feel Like Dancing and Sing a Song of Wiggles appear in the series. They are never given title cards. No new music videos are filmed for the TV Series, although some brief songs are performed in segments, such as Dorothy performing Get Ready To Wiggle in Murray Had a Turtle.
What Happens Next? It's Up to You!
A segment featuring The Wiggles, usually joined by Captain Feathersword often playing a game, doing a challenge, or playing pretend. They often need assistance from the audience, at which point one Wiggle sings a song to the tune of First In Line to ask for help. The same Wiggle also introduces and ends each segment with a similar song. These segments usually take place at Wigglehouse or Captain Feathersword's Dockyard.
Dorothy and Wags
Dorothy the Dinosaur visits Wags the Dog at his home, where she helps him with problems, teaches him, and plays with him (sometimes all at once), such as when they pretended to drive different vehicles to teach him homophones like how an airplane can "soar" but isn't "sore", and a car is for "braking" not "breaking". A Wiggle or one of their other friends sometimes introduce the segment, but never appear.
Paint a Picture with Music
Murray and Jeff use their instruments to create paint musical landscapes. For example, when painting a beach scene, Murray uses his guitar to imitate seagull sounds, and when painting a farm scene, Jeff uses his keyboard to make the sound of cows mooing. Anthony Wiggle introduces each segment.
What's in the Letterbox?
After the postie delivers the mail, a Wiggle checks the letterbox to find a letter or present from one of their friends, as they try to guess who it's from or who it's for with the help of the audience.
Dressing Up with Anthony
Anthony wears a new costume, and has another Wiggle or Captain Feathersword try to guess what it is, who usually have incorrect answers.
The Three _______
Anthony introduces us to three characters, such as guitarists, gentlemen and cowboys, not realizing one is Captain Feathersword in disguise.
Interstitial Scenes
There are a number of brief scenes featuring no dialogue that appear between segments to fill the running time. These include one or more Wiggles playing a song on their instruments as another one comes in to finish the song when they get stuck, and Wiggly Dancers dancing to a short tune.
Other
Some episodes include scenes that do not belong to recurring segments. Some of these include Captain asking The Wiggles and their friends what their favourite numbers are, and The Wiggles giving Wags a new bone toy after he loses one he's buried. Two episodes feature Henry, after a visit to Wigglehouse, travelling to Gawa and learning about their culture.
Version Differences
The 11-minute versions are either split versions of the 22-minute ones, or the 22-minute versions are combined versions of the 11-minute ones, depending on which was made first. But unlike Series 4 & 5, the episode order between the 2 versions is shuffled. For example, We Feel Like Dancing (Ep. 1) and Over in the Meadow (Ep. 4) of the 11-minute versions make up "Move and Groove" (Ep. 1) of the 22-minute versions.
Also unlike the previous series, there are some major differences between the full 22-minute versions and the split 11-minute ones, such as songs or segments being added or taken away between these two versions to fit the proper running time (splitting 22-minutes into 11 means adding the intro and credits a second time). One example of a change is the song Pussycat, Pussycat, which appears in Murray Had a Turtle (Ep. 7 of the 11-min. versions), replacing Twinkle, Twinkle, Little Star in the 22-minute version "The King of Swing" (a combination of it and Who Am I?, Ep. 6). Pussycat, Pussycat never appears in the 22-minute version, and it's currently unknown if 11-minute episodes beyond Ep. 18 include any other songs or segments not seen in the 22-minute versions, which there are known to be some based on blooper reels. Like TV Series 3, most of the segments are separated in both 11-minute and 22-minute versions as exclusives.
Background Music
Like TV Series 4 and 5, The Wiggles had the background music of the series be instrumental versions of their songs, usually recorded in the 1990s and earlier in the 2000s, although sometimes like in the Dorothy and Wags segment from The Queen of the Land, The Wiggles would record their own background music for the series. In that particular episode segment, it was an instrumental re-recording of I Look In The Mirror from the Here Comes a Song album in 1992.
Home Video Releases
22-minute versions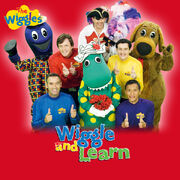 DVD
Oh, Captain! and Get the Rhythm of the Hips are included as bonus features on the Blu-ray version of You Make Me Feel Like Dancing, to date the only HD release of any Wiggle and Learn episodes. The Black Velvet Band and Hear the Drumbeat (using the Playhouse Disney title "Let's Get the Rhythm of the Feet") are included as bonus features on The Wiggles Go Bananas! DVD. Wiggle Dance is included on the UK-exclusive Wiggly Sampler DVD. 
A complete collection of the series was released in Hong Kong.
Digital
All 26 episodes of the 22-minute versions were released in 2 volumes on iTunes, Google Play and other similar platforms in Australia. On iTunes, episodes were presented in 360p with mono sound, a significant downgrade from the original 1080p resolution and stereo sound mix. A few episodes were also cropped to 4:3, and then re-stretched to 16:9. Neither volume is currently available to purchase.
11-minute versions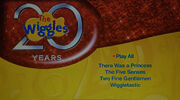 As previously mentioned, Wiggle and Learn: The Pick of TV Series 6, released only in Australia and New Zealand, includes 18 episodes from throughout the series' run.
To celebrate The Wiggles' 20th Birthday, a selection of Wiggles DVDs (You Make Me Feel Like Dancing, Sing a Song of Wiggles, The Wiggles Go Bananas!, Hot Poppin' Popcorn, and Let's Eat!) were re-released with bonus discs containing 4 Wiggle and Learn episodes. One of these bonus discs contained two episodes not featured in The Pick of TV Series 6, The Five Senses and Two Fine Gentlemen.
Wiggle Treats!, a promotional DVD distributed through various Australian newspapers, contained the episode I Spy.
Credits
Trivia
This is the first Wiggles TV series not to feature the songs "Hot Potato", "Rock-A-Bye Your Bear", "Can You (Point Your Fingers And Do The Twist?)", "Toot Toot, Chugga Chugga, Big Red Car", "Wake Up Jeff!", "Captain Feathersword Fell Asleep on His Pirate Ship (Quack Quack)", "The Monkey Dance" or "Fruit Salad".
This is also the only TV series to not feature music videos filmed just for the TV Series, not counting the version of "Move Your Arms Like Henry" performed in Gawa or the short version of "Get Ready To Wiggle" performed by Dorothy as they're parts of segments.
This is the last Wiggles TV series to feature Murray and Jeff as original members, 4-5 years before they retired, thus making Anthony the only Wiggle to appear in every TV series.

This is also the only TV series to feature Sam as the yellow Wiggle.
This is the only series to not feature the catchphrases "Oh No! Oh What?" or "Huh? Huh? Huh? Huh?"
in some episodes, there are instrumental background songs from a Christmas album (Santa's Rockin) despite not being December yet, this also happened in Ready Steady Wiggle series 2 with instrumental songs from Go Santa Go
unlike The Wiggles' other TV Series, none of the songs are self written classics, however, this series did have instrumental background self written classics, mostly recorded in 1996-2006

This is the second series not to feature Live in Concert songs. The first being TV Series 3.
This is the last series to premiere and air first-run on Playhouse Disney. Following the conclusion of the series' run in June 2009, Playhouse Disney would have a TV Show of a similar band called "Imagination Movers" take their place on the network. 
This was the first series to be released in 720p/1080p High Definition.
This was also the first Wiggles series to be fully produced in Hot Potato Studios. 
Some new instrumental versions of older Wiggles songs make appearances as background music in episodes including "Blow Me Down" (heard in Musical Landscape) and "Willaby Wallaby Woo" (heard in So Early in the Morning). A re-recorded instrumental version of Numbers Rhumba can also be heard in this series despite being a cover of David Walden and Raffi.
The intro differs slightly from the one used previously in the Getting Strong! video, as the Wiggle and Learn logo at the end is squished a bit, so it could be visible when cropped to a 4:3 aspect ratio.
The theme song is actually a re-recorded version of a scrapped song that appeared on ABC for Kids in 2006 from January to November with Greg Page as the yellow Wiggle.
This series was also originally made in 2006 with Greg Page as the yellow Wiggle, but when he left with his illness, the rest of the production had to be delayed until 2007 with Sam Moran as the yellow Wiggle
This is the first time in The Wiggles where Mario Martinez-Diaz spoke English, when he first appeared in Racing to the Rainbow, he mostly spoke Spanish.
"Pussycat, Pussycat" doesn't appear anywhere in the 22-minute version of the series, as it was replaced by Twinkle, Twinkle, Little Star.
References
Community content is available under
CC-BY-SA
unless otherwise noted.