Looky, looky here! Looky, looky there!
Looky, looky, looky, looky, looky everywhere!

This page is about a piece of lost Wiggles media.
It is open to be edited by all users, so please beware of potential false information.
If the page becomes too filled with possible lies or unexplained assumptions, please contact an administrator who will lock the page until it is truly found.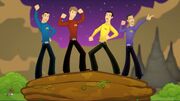 Wiggles in Wonderland was a 2D-animated series concept that was proposed to The Wiggles by a few ex-Disney animators, but for unknown reasons was scrapped and never released to the public. Currently the only known footage that exists was found on animator Matt Diks' Vimeo art reel, which has no actual sound from the original source, instead a non-related song is heard in the background.[1] This series was likely proposed to the group sometime in 2006 or 2007, and would've more than likely to have been aired in 2007.
References