Wiggly, Wiggly Christmas!

DVD cover

Released

November 1, 2017 (AUS)
November 21, 2017 (CAN)
September 30, 2018 (US)
2018 re-release (AU)

Running Time

58:19

Previous Video

Nursery Rhymes (DVD version, 2017)

Next Video

The Best of The Wiggles (2018)
Wiggly, Wiggly Christmas is a Wiggles video that was released on November 1, 2017, named after and a partial remake of the 1997 video of the same name.
Track list
Credits
Maria Field as Voice of Dorothy the Dinosaur
Lachlan Gillespie as Voice of Wags the Dog
Lachlan Gillespie as Voice of Henry the Octopus
Paul Paddick as Voice of Santa Claus
With Special Guest: Greg Page
Music Produced by: Anthony Field, Lachlan Gillespie
Director: Anthony Field
Producer: Paul Field
Director of Photography: Aaron Hill
Choreographer: Caterina Mete
Production Manager: Kate Chiodo
Post Production: Timothy Cheeseman, Aaron Hill, Gerald Holmes, Leonardo Silvestrini, Yi Yin
Wiggly Performers: Oliver Brian, Jessamine Cadou, Tim Cheeseman, Stephanie Di Coio, Dominic Field, Lauren Figuero, Michael McFadden, Douglas McFarlan, Tiarna Mar, Caterina Mete, Chelsey Priadko
Child Performers: Aiden Arcuri, Jackson Chiodo, Antonio Field, Lucia Field, Maria Field, Preston Galea, Ella Jacob, Ryan Knipler, Allie McDonagh, Nimah McDonagh, Aya Micallef, Jordan Micallef, Sienna Micallef, Andile Mlilo, Evie-Rose Murphy, Herbie Murphy, Elodie Penton, Natlie Petkovich Ryan Yeates
AUSLAN Performers: Byron Jackson-Jones, Tobian Jackson-Jones, Levi Stathis, Jade Stathis-Walters
Additional Guest Performers: Sanaz Bassari, Kate Chiodo, Chris Galea
Director's Assistant: Caterina Mete
Assistant Choreographer: Emma Watkins
Camera Assistant: Tim Cheeseman
Sound Recordist/Playback: Oliver Brian
Costumes/Props: Caterina Mete, Kathryn Watkins
Hair & Make Up Artists: Veronica Moreira, Kristy Snape
Graphic Design & Illustrations: Daniel Attard
Colourist: Aaron Hill
Audio Post Production: Alex Keller
Stills Photography: Daniel Attard
Autocue Operator: Tim Cheeseman
Set Nurse: Jarda Kyral
Runners: Ryan Burge, Dominic Field, Lauren Figuero, Michael McFadden, Tiarna Mar
Music Recorded & Mixed by: Alex Keller
Music Mastered by: Don Bartley
Music Recorded at: Hot Potato Studios, Sydney NSW
Wiggly, Wiggly Christmas! Filmed at Hot Potato Studios, Sydney NSW, Bella Visita Farm Park, Sydney NSW
Trivia
Greg Page guests stars in this video wearing his original yellow skivvy from 2007-2012, singing Go Santa Go with The Current Wiggles. He went to the studio at 10:00 in the morning.
The Little Wiggles return again in this video.
This is the first time that Simon plays an acoustic guitar.
While the North American DVD was released in Canada a few weeks after the Australian release, it was not released in the United States until the following year.
Galleries
Main DVD
It's a Christmas Party on the Goodship Feathersword
Henry's Christmas Merengue
Dorothy's Special Christmas Cake
Wags is Bouncing Around the Christmas Tree
Let's Clap Hands for Santa Claus
Promotional Material
DVD Gallery
DVD Menu Gallery
DVD Menu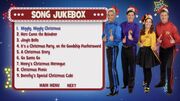 Trailer
The Wiggles videography
Murray

,

Jeff

,

Anthony

and

Greg

(1993-2006, 2012, 2018)
| | |
| --- | --- |
| Feature Film | The Wiggles Movie (1997) |
| Spin-Offs | The Dorothy the Dinosaur and Friends Video (1999) • Captain Feathersword the Friendly Pirate (2000) |
| TV Series Collections | Wiggly TV (2000) • Wiggly Play Time (2001) • Lights, Camera, Action, Wiggles! (2003) • Lights, Camera, Action! (2005) • TV Series 1 Collector's Box Set (2005) • TV Series 2 Collector's Edition (2007) • TV Series 3: Lights, Camera, Action! (2008) • The Wiggles Show: The Pick of TV Series 4 (2010) • Ready, Steady, Wiggle! The Pick of TV Series 5 (2010) |
| Other | Dorothy the Dinosaur Goes to Hospital (Promo video, 1999) • Happy 15th Birthday! (Documentary, 2006) |
Murray

,

Jeff

,

Anthony

and

Sam

(2007-2011)
Anthony

,

Lachy

,

Simon

and

Emma

(2013-present)
Dorothy the Dinosaur

(2007-2012)