Mop it up! Mop it down!

This article needs to be tidied up to meet Wigglepedia's standards of quality.
You can help clean up by reworking the article in general.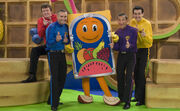 Wiggly Waffle was a show on PBS Kids Sprout from 2009-2013 that aired from 6-9AM and 5-8AM central.
Segments
How Are We Gonna Wake Up Jeff?
Learn About The Days Of The Week
The 5th Wiggle
JB The Juicebox Pick
Have A Laugh
Waffle Toppings
Songs
(These songs we're filmed using the Wiggly Waffle Set, just they're not in order as listed or performed)
How Are We Gonna Wake Up Jeff?
Good Morning Sproutlets (The Wiggles Wiggly Waffle Intro)
Sprout Around The Clock
Monday Is Muffin Day
Tuesday Is Taco Day
Wednesday Is Watermelon Day
Thursday Is Bratwurst Day
Friday Is Fish Fry Day
Fruit Salad (Short Version)
Hot Potato (Short Verison)
Goodbye Sproutlets (The Wiggles Wiggly Waffle Outro)
Toot Toot, Chugga Chugga, Big Red Car
Do The Wiggle Groove
Shaky Shaky
Wiggle And Learn!
Getting Strong!
Have A Laugh
Cast
Murray Cook (2009 - 2013)
Simon Pryce (2013 - present)
Anthony Field (2009 - present)
Jeff Fatt (2009 - 2013)
Lachlan Gillespie (2013 - present)
Sam Moran (2009 - 2012)

Greg Page (2012 - 2013)

Emma Watkins (2013 - present)

Captain Feathersword
Dorothy the Dinosaur
Wags the Dog
Henry the Octopus
Juicebox
Trivia
This is the last series to feature Sam as the yellow wiggle.
In the 2010 to 2012 Sprout Snooze-A-Thons from Christmas Eve to Christmas morning, the Wiggles (with Sam) were featured asleep together, sitting down in a chair.
The Wiggles did air lots of Series 1 & Series 2 episodes during their first week on Sprout.
While partnering with Sprout, Let's Eat! was in production to feature the same songs performed on Wiggly Waffle, just at WiggleHouse, Captain's Dock, and other places.
This show was very interactive for all Wiggles fans getting to see pictures of them on screen.
JB Juicebox was a Sprout friend special.
Goof: During the intro, Jeff's shirt can be seen mirrored.
The finale was on March 22, 2012, due to Greg's return.
Promo Pictures