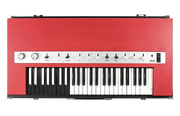 Yamaha YC-10 is a keyboard manufactured by Yamaha. It began production in 1969. The Wiggles' red model, with star stickers on the front, has been dubbed by fans the "Red Starry Keyboard".
The Yamaha YC-10 first appeared in Wake Up Jeff! and the keyboard is still used today. The Yamaha YC-10 is the main keyboard just like the Maton Mastersound MS500 and Maton EM225C guitars.
The keyboard is red and with stars added just like Murray's Red American Vintage Telecaster (likewise known as the "Red Starry Guitar"). The low keys are black and the high and middle keys are white.
Greg plays it in Wake Up Jeff!. Following Jeff's retirement in 2012 the keyboard is now played by Lachy. Simon played it in Taking Off!, and Emma has also played it on certain occasions. 
Trivia
Although it's keyboard it is actually a Combo Organ that makes keyboard sounds, Piano sounds, and sometimes Organ sounds when it was featured in videos.
In the early days, the colour of the stars on the keyboard used to be White. They were changed to sparkle for The Wiggles Movie and kept that way until Splish Splash Big Red Boat when the stars were changed to yellow. The legs were also changed from silver to blue around this time and are currently seen with this look today. 
This is the only "Red Starry" instrument that still in use.
This is Jeff's favourite keyboard because he plays this keyboard a lot in both videos and some promos.
Besides Jeff, the keyboard was also played by The Early Wiggly Friends they played the keyboard too. Wags was never seen playing the keyboard, however.
The Red Starry Keyboard has never appeared in any live shows or concerts although it did appear in The Wiggles' Wiggly Songtime! Show.
The band named The Groovers also has the red Yamaha YC-10 but this one has big coloured spots on the front, and this one is also has been dubbed by fans the "Coloured Spotted Keyboard".
This keyboard model was made in 1969 the same year it began production.
The keyboard that Anni Hsu's playing in The Taiwanese Wiggles is less detailed to the current one that's used today. It's either a Nord Grand keyboard which was manufactured by Nord or it's just made of cardboard.
See Also