"Your Body"

The Wiggles TV Series 2, Episode 5

Information
Approx. Running Time

21:32

Episode Guide
Previous
Next

"Play"
Your Body is the 5th episode of TV Series 2.
Synopsis
Captain Feathersword takes a picture of the Wiggles. Greg won't eat his broccoli. Murray makes a bunch of observations. Captain Feathersword teaches Wags how to fetch.
Songs
Plot
Captain Feathersword is taking a picture of The Wiggles. He asks them to move closer to fit in the frame. Jeff's also fallen asleep so they wake him up. After the picture is taken, the Wiggles complain about how their bodies are stiff from staying in the same place all this time.
Song 1: "Can You (Point Your Fingers And Do The Twist?)" (from The Wiggly Big Show)
It's mealtime, and Greg won't eat his broccoli, but wants pasta. Greg is a picky eater because he doesn't like the broccoli, but loves pasta instead of green vegetables. The other Wiggles explain how broccoli gives you energy and makes you big and strong. They do that while eating the broccoli. After hearing all the good things about broccoli he's ready to eat but his broccoli is all gone. Anthony offers some pasta.
Dorothy and Wags stretch and tune into an exercise show.
Song 2: "Whenever I Hear This Music" (from Wiggle Time!)
Murray's reading a book and states: Did you know that if you didn't have elbows, you can't scratch your head? The other Wiggles try that and agree, but you can scratch each other's heads!
Magic Greg tries a slice of Anthony's carrot cake to lure his rabbit out.
Song 3: "Head, Shoulders, Knees And Toes" (from Toot Toot!)
Knock, Knock joke.
Captain Feathersword tries to teach Wags how to fetch. Wags won't go, so the captain demonstrates.
Song 4: "Move Your Arms Like Henry" (from Toot Toot!)
Captain continues demonstrating how to fetch like a dog.
The Wiggle cavemen exercise by lifting rocks.
Murray does another Did You Know, but the other Wiggles leave to do other activities.
Song 5: "Rock-A-Bye Your Bear" (from The Wiggly Big Show)
The Wiggles say goodbye.
Trivia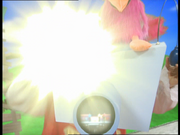 The Wiggles Episodes
Wiggle and Learn (2008)
22-minute versions
Move and Groove | Musical Landscape | Wiggle Dance | The King of Swing | Bailar y Cantar | Barnyard Boogie | The Bobby Bounce | The Black Velvet Band | Fun in the Sun | My Fair Lady! | So Early in the Morning | Soy Capitan! | Together We Live So Happily | Oh, Captain! | The Biggest Smile of All | The Queen of the Land | Get the Rhythm of the Hips | Hear the Drumbeat | Teddy Bear Touch the Ground | Meadowsweet and Lady Smocks | Ding, Ding, Dong! | Buzz, Buzz, Buzz | Shall We Dance? | Dance This Way | Kittens and Mittens | Surf, Sand and Sun
11-minute versions
We Feel Like Dancing | The Shimmie Shake | Let's Get the Rhythm | Over in the Meadow | I Spy | Keep Moving! | Who Am I? | Murray Had a Turtle | La Bamba | Oranges and Lemons | Hey Diddle Diddle | This Way and That | Jeff Gets a Letter | This Old Man | A Sailor Went To Sea | Her Eyes Shone Like Diamonds | Beach, Beach, Sandy Beach | Old Dan Tucker | London Bridge | There Was a Princess | The Banana Boat | Incy Wincy Spider | Fairy Dancing! | Getting Strong | Pussycat, Pussycat | Fun at Wigglehouse | Hello! | The Five Senses | Big, Bigger, Biggest! | See-Saw | Musical Landscape | D is for Dorothy | The Sporting Salsa! | Jack and Jill | Wags House | Two Fine Gentlemen | Teddy Bear, Teddy Bear | Wiggletastic | English Country Garden | Circus Fun | Frère Jacques | The Turkey in the Straw | Twinkle Twinkle | Sam Gets a Letter | I'm A Cowboy | Smell Your Way Through the Day | The Horn Pipe | Miss Polly Had A Dolly | Allo, Allo, Allo! | Three Little Kittens | Nick-Nack Paddy-Wack | I Drive the Big Red Car